FOR OVERSEA
For those who are living abroad:
Welcome to Diverse Direct. I am Fumiaki Ito, head of Diverse System under the nickname YsK-Yosaku or YsK439.
Below is an explanation on how to order from the store from outside of Japan.
1) I personally handle any mail orders as well as any messages received.
2) Orders are usually shipped via "Small Packet" and "EMS" at Japan Post or DHL Express. For most countries, they include tracking and will usually take around 10 days to arrive if there are no logistics issues.
3) Only PayPal payments are accepted as this time for international buyers.
4) There are no refunds, exchanges, or reimbursements if any issues occur. I cannot reship orders either.
5) Charges such as fees, taxes, customs and so on are all your sole responsibility.

(These instructions were written for me by a friend, so if you need to contact me, please bear in mind that I may not be able to communicate fluently. Moreover, my replies may be machine translated and thus not sound completely natural.)
Below is an illustrated, step-by-step guide on how to successfully make a purchase here.
a. Adding items to the cart:
You may add items to the cart by clicking the "Add to Cart" button located on an item's product page.
Some CDs may be sampled by clicking the play button on the SoundCloud player located at the top of the page.
b. Checking out:
Below is a screenshot of the shopping cart. As you can see, "AD:TECHNO" is already added to the cart. If you need to adjust the quantity of an item in your cart or to remove it, simply edit the value to the right of the item's price and click the white button just below it.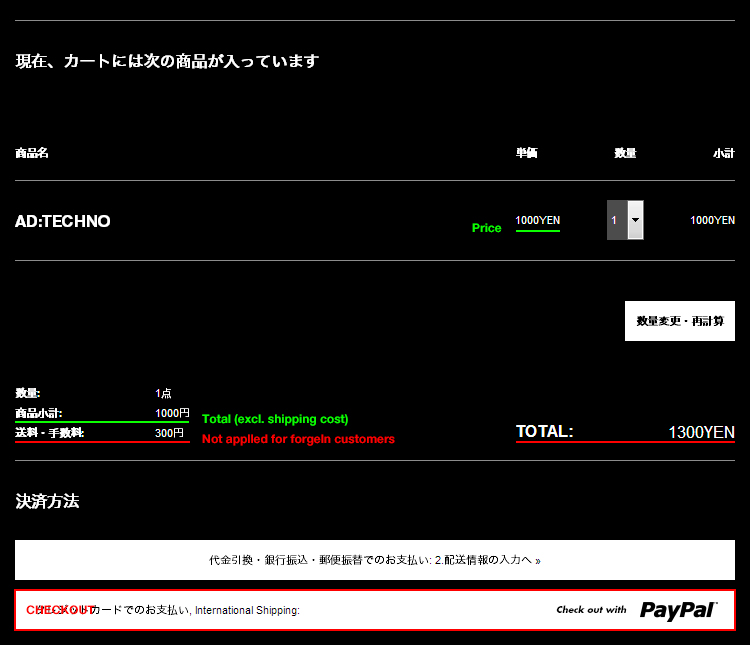 The green label at the bottom-left displays the subtotal of your cart. (The red label below it is not applicable for international customers at this time, so please disregard it.)
Although the prices in this store are all in Japanese Yen, PayPal will automatically convert your currency to it. When you check out with PayPal, you will be shown the converted cost in the currency that you are using before confirmation.

Once you are done shopping, click the "Check out with PayPal" button at the bottom of the page to proceed with payment.
c. Finalizing the purchase:
After the purchase is made, you will see a confirmation page detailing the total cost of the purchase, the shipping cost, as well as your shipping address. Please confirm your address as well as your e-mail, and then finalize your order by clicking the red button at the bottom-right. (For reference, postage is 1,500 yen for up to 3 CDs, 2,000 yen up to 9 CDs, 3,000 yen up to 18 CDs, and so on. Please consult me for further bulk pricing.) If there is a mistake with the shipping address and you are unable to change it, please contact me as soon as possible with the Order ID number, which will be provided on the final confirmation page below.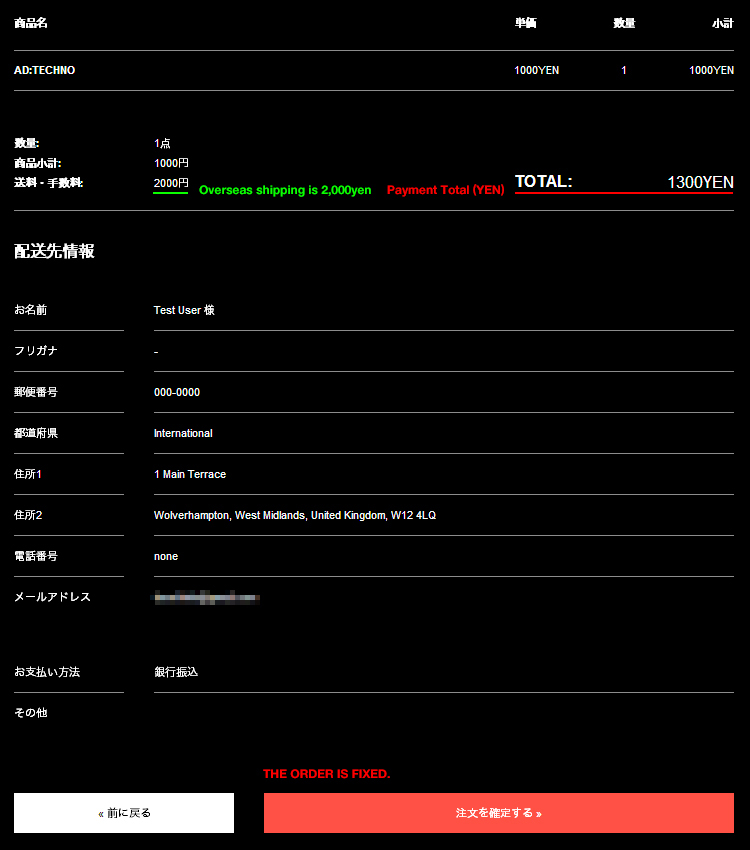 d. Final confirmation:
After the order is complete, you will see a final confirmation. Although it is written in Japanese, the most important thing to take note of is the Order ID number, which is indicated in the screenshot below. You will need this number to contact me for anything regarding your purchase.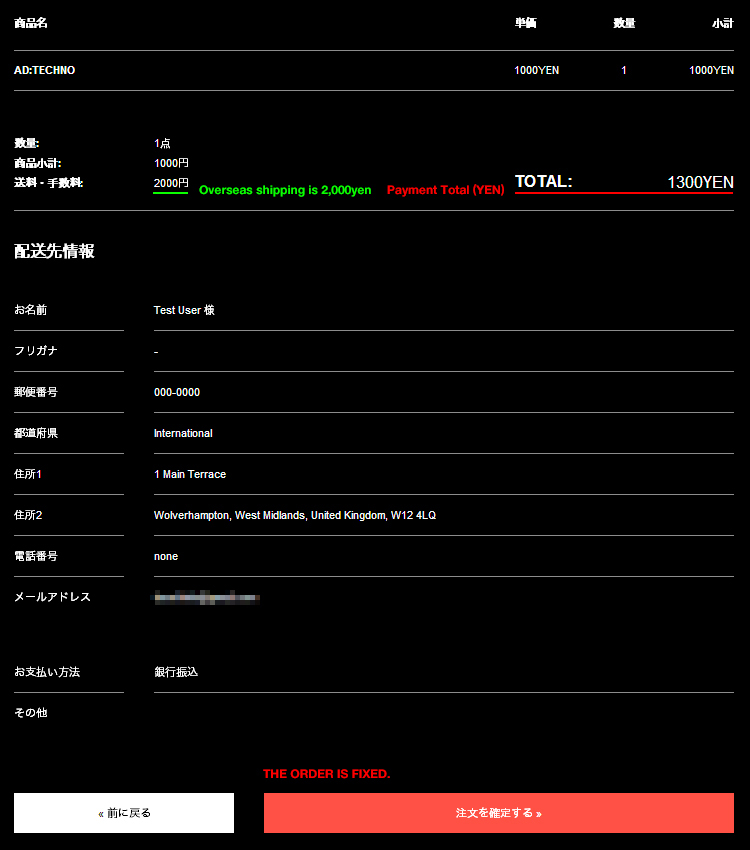 That should be all. Now simply wait for your order to arrive. If you have any questions, please do not hesitate to contact me at any time. You may write to me in English.
e. After you confirm, you will receive a final confirmation.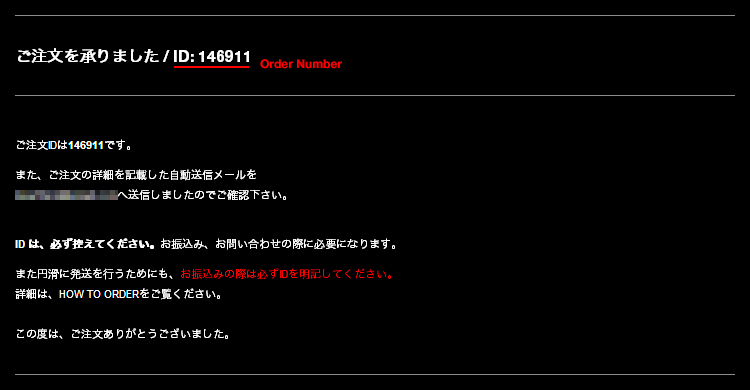 The first number in message is your Order Number.
You will need to quote this number if you would like to contact me about your purchase.
If you want to send a message, please write this number together.
You will receive the details about your order back to your e-mail address.
(it will be written in Japanese. Sorry about that)